Our Family - Share in the Experiences !!
Hi everyone .. Cazz here
Its been awhile since I last did a post here, but nothing has really been happening that is note worthy, and time seems to be running past at an amazing pace !! I often wonder where the day / night has gone.
I have still been making my night visits to different blogs, reading the happenings, comings and goings and having a laugh or two at the great jokes that you all display, and the photography is just so wonderful. I often feel that I'm on a world tour, and yet I haven't left my study !!
Well, not sure if you read sometime back that I was heading down to Melbourne to Donna's place (not to be confused with sister Donna, this is Chris's sister Donna ..LMAO.. yes we have 2 Donnas in our combined families)for a Girls Night .. well we had a great time .. caught up on gossip, did our bit of bitching - which as females is a very important part of socialising - had more laughs than I can remember, drank copious amounts of alcohol, went to the local pub and had a nice meal, played the pokies (slot machines), back to Donna's, then sat in the spa to we looked like steamed dim sims bobbing around !!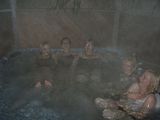 Bathing BEAUTIES !!! From left: Chris, Jo, Cazz, Jenni, Donna The pic is not that clear due to the rising steam, it was a cold night - not that we felt it !!! (Click pic for a larger image)
The family all seemed to have gotten into the spirit of blogging. We have discovered, thanks to
Holtie
, that blogging is a great way for the family to share events and pics, especially when we all live so far apart. A BIG HUG to
Holtie
.. thanks Pete xxooxxx
By reading the comments left for various family members, I notice that some of you are also keeping up with our families, trials and tribulations and most happening moments. If you haven't bothered as yet, please pay them all a visit .. you will get an understanding of us a a group, or as we call ourselves .. the Davies Clan .. we are our own community !!!!
Members of our clan & links to there sites:
Gary (Gaz)
"G's Spot"
Joanne (Jo - Little Jen)
"Eight is Enough"
Donna (Skippy)
"Skippy"
Serayha & Alyce (twobums & nieceburger)
"2bumsnaburger"
Gwen
"Gwen's Den"
- mums dearest friend and honour family member
Visiting
Jo's
site this week, bought back so many memories for me of when my daughter Serayha was that little and cute, and doing her tap & jazz .. where have the years gone !!! Pop over and see how cute Kara looks in her costumes.
Visiting
Serayha & Alyce
... OH GOD... that was not funny at the time, Brett had just dug his trenches for the underground sprinkler system, which you two decided to turn into the local lake complete with chanels !!! But to look back on it, it really raises a smile, but I can still see the look on Christines face when I showed her the ruined clothes and shoes, that up until that morning were Alyces her better ones !! And yes, before they got in the car they were hosed down !! Not sure what im on about, pop over and pay a visit. Those two together are always a recipe for fun and adventure. Keep up the work girls, I got heaps of snaps you can go through, if you havent already, I think some of them look familar !!!!
Visiting
Gary's
site .. well nothing much seems to be happening there since the camping adventure, but some great snaps .. go check them out !!
Visiting
Donna's
site ... well I think she needs some words of encouragement, please pay her a visit and razzzzzz her up abit .. LMAO .. come on sis .. you can do it .. I know you can !!!
Visiting
Gwens
site .. some serious, some funny tales & pics ... pop on over and say "G'day" .. she just loves it when people just pop in for a chat and a cuppa !!!
Well, from me to you,
Stay safe, live happily and keep on smiling
Cazz
PS: EDIT - PLEASE READ
After visiting my favorite blogs, I noticed that
Merle
left a comment on Holties blog that she is getting frustrated with blogger, and is going to give it a rest. Well, we cant let that happen, we will miss her to much, so please nic over to
Merles
and tell her so, get her spirits up, and lets all pitch in with whatever it takes to keep her amongst us